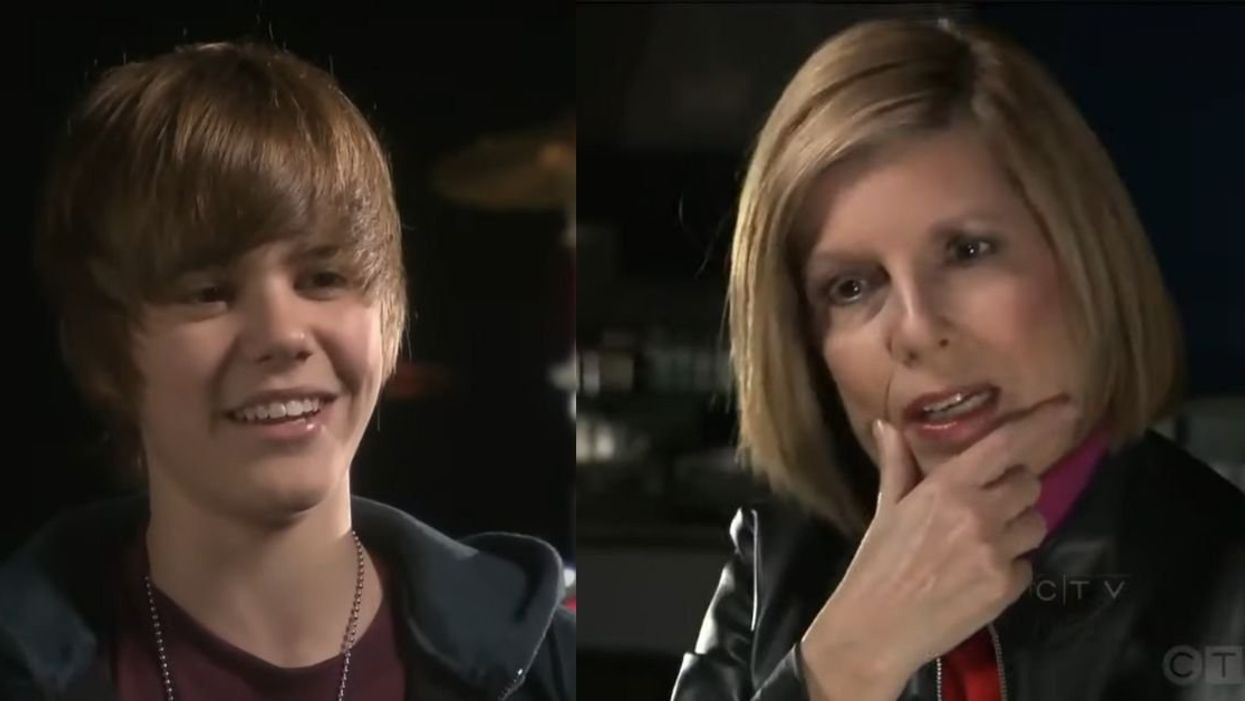 In a resurfaced video that is garnering praise online, a 15-year-old Justin Bieber brilliantly shut down an interviewer after she grilled him on how he achieved fame.
Bieber, who came from humble beginnings raised by a single mother in the small city of Stratford in Ontario, Canada, was on a path to superstardom when he was discovered by music executive Scooter Braun and signed in 2008 with RBMG Records, a joint venture between Braun and R&B artist Usher.
He established himself as a teen idol after the songs "One Less Lonely Girl," "Love Me," and "Favorite Girl" from his 2009 EP My World charted in the top 40 of the US Billboard Hot 100.
Around this time, he was interviewed by journalist Sandie Rinaldo in an interview special that was featured on the Canadian TV network CTV.
People were impressed by how the budding superstar held his own and demonstrated how his confidence and maturity belied his age.
#Buzznews : Justin Bieber Praised For Mature Response In 2009 Interview https://t.co/m72gEMp3Hq
— Kamzou L (@kamzou08) October 23, 2023
Growing up, Bieber learned how to play the drums, piano, guitar, and trumpet, and he discussed his musical versatility in the resurfaced clip.
"I think that as a 15-year-old kid, I'm able to…not a lot of kids are able to play as many instruments as I play," he said.
"I'm not trying to be cocky or anything, but I'm able to sing and write music."
Rinaldo, however, cut to the chase about his nascent stardom and commented:
"Critics will say that you are basically a product of marketing, that when it comes down to it, it's all the YouTube hype, it's all the attention you get online."
Bieber, who started sharing videos of his early musical performances on YouTube, nodded his head in response.
When Rinaldo asked:
"Do you see yourself as a product of marketing hype?"
Bieber replied:
"I think that everything happened organically. It wasn't something that the record label was pushing."
"Coming from Stratford, Ontario, it basically gave others, like, hope because I come from somewhere that nothing really comes from there."
But Rinaldo quickly interjected to prove the young artist was mistaken by mentioning that news anchor Lloyd Robinson was also from Stratford and became famous.
Bieber calmly reiterated to Rinaldo that no one else has ever come from where he grew up to become known worldwide.
Seeing that Rinaldo was conflicted about his and Robertson's level of celebrity, Bieber asked her if she agreed with his point, to which she replied:
"Well, you know, it's hard to say."
He pressed further by asking:
"Do you think Lloyd Robertson is known in a little town in Germany?"
Rinaldo said it wasn't likely, given the fact that Robertson only anchored the national news in Canada.
She reluctantly acquiesced and asked Bieber:
"So you're saying you've got international appeal—that's the point you're making?"
"Yes ma'am," replied Bieber.
The vintage video was shared in response to a poster who asked followers, "What interview clip lives in your mind rent-free?"

You can watch the interview segment that was shared on X (formerly Twitter), here.
the way 15 year old justin bieber politely ate her up 😭pic.twitter.com/4yNq6xZGYG https://t.co/eNxhRXSwtY
— KAI (@ended_everyone) October 21, 2023
People were impressed by how Bieber calmly shut down his interviewer.
He ate her tf up 😭😭😭😭
— debbie 🫶🏿 (@magicadex) October 21, 2023
His smile when he said "you agree with that" 😭 lol
— Andie (@cottagegoddess_) October 24, 2023
ending it all with a "yes ma'am" >>>>> chef's kiss
— Nay.🖤♍️ (@CREFLO_DEENA) October 22, 2023
Wildly articulate for a 15 year old
— Chadtrist (@discourseloverr) October 22, 2023
Bro was mature early in his mind
— Crypto_sheep 🐑 💋 (@crypto_lambs) October 22, 2023
So calm ☺️ intelligence 🤝
— Drexxofficial.bnb || PeacefulRebel (@Drexxofficiall) October 24, 2023
Oh dam he put her in her place 😭
— Cleopatra (@Cleoyourlatina) October 22, 2023
And they were less impressed by Rinaldo's line of questioning.
she was so weird for pressing a child like that, he handled himself so well
— 𝔏𝔦𝔞 (@sophiarauhls) October 21, 2023
"Critics are saying" whole time it's her
— Ren (@SerenityV55) October 21, 2023
I actually respect JB now, woah. That reviewer was really nasty. Jealousy is a hell of a drug.
— b a n a f s h e h *-* بنفشه 🐑 (@banafsheh_esma) October 22, 2023
Sure little boy, but are you familiar with THE Lloyd Robertson from CTV?!!

Like, what?!
— Moni (@MosDefiant) October 22, 2023
This lady sucks
— Donovan James (@DonJamesSports) October 22, 2023
Now 29, Bieber is considered one of the best-selling music artists of all time and has estimated sales of over 150 million records worldwide.
He is most famous for his international breakout hit, 2010's "Baby" featuring rapper Ludacris from his first studio album My World 2.0, and for other more recent hits including 2020's "Yummy" and the songs "Stay" and "Peaches" from his 2021 album Changes.
His most recent and sixth studio album Justice debuted atop the US Billboard 200, making him the youngest solo artist to have eight US number-one albums.
That record was previously held by music icon Elvis Presley since 1965.
He is also the recipient of two Grammys, a Latin Grammy Award, eight Juno Awards, two Brit Awards, one Bambi Award, 26 Billboard Music Awards, 18 American Music Awards, 22 MTV Europe Music Awards, 23 Teen Choice Awards, and 33 Guinness World Records.
Bieber remains the only Stratford native to have become famous on a global scale.
You can watch the entire special, "One-on-one with Justin Bieber in 2009 | W5," here.
One-on-one with Justin Bieber in 2009 | W5 Archive