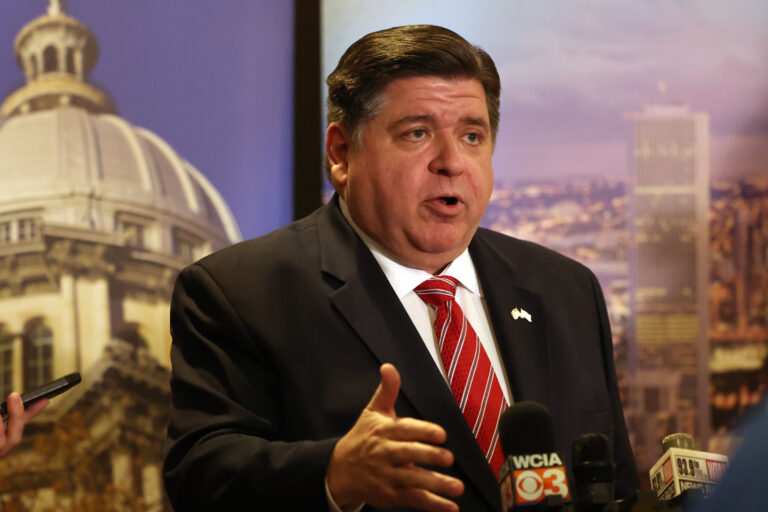 Gov. J.B. Pritzker on Saturday approved a measure that would allow firearm retailers or manufacturers to be sued for marketing guns to people under 18 and promoting other improper marketing ploys geared toward the sale of weapons.
The bill was signed a day after Pritzker and his Democratic allies in the Illinois General Assembly scored a close victory when the state Supreme Court, in a 4-3 decision, voted to uphold the state's ban on certain high-powered guns and high-capacity ammunition magazines.
Pritzker and other elected officials discussed the gun marketing liability law in Chicago at McCormick Place during a conference for the national gun control group Everytown for Gun Safety. Vice President Kamala Harris spoke at the event on Friday.
"You know, we hold opioid manufacturers accountable. We hold vaping companies accountable. We hold predatory lenders accountable. Gun manufacturers shouldn't get to hide from the law and now they won't be able to," Pritzker said at the conference on Saturday.
Dubbed the Firearms Industry Responsibility Act, the new law allows firearms businesses to not only be sued if they advertise to people under 18, but also if the businesses fail to take steps to prevent illegal sales, such as straw purchasing, sell guns to someone who is not allowed to own one or sell them to someone who the businesses believe could be a danger to themselves or someone else.
The law also allows civil action against the firearms businesses if they're found to have marketed guns for unlawful paramilitary or private militia-related activities.
In the legislature, the measure passed 71-40 in the House and 34-22 in the Senate.
Prior to the measure's passage in May, Senate Republican Leader John Curran, of Downers Grove, raised concerns about the "vagueness and the lack of notice and guidance" that the measure gives firearms businesses when they try to comply with such a law by implementing certain safeguards.
"We already heavily regulate those who sell and transact weapons in this state. What this proposal before us does, it really just sets a whole myriad of additional liabilities for gun dealers, and quite frankly there's parts of it that would be impossible for them to follow," Curran said during a Senate floor debate. He also said he thinks the measure could be challenged in the courts.
Before the bill passed, at least one of its other opponents argued it violates federal law, which provides protections for firearms manufacturers against civil liabilities. During the Illinois Senate floor debate, Senate President Don Harmon sought to assure others in the chamber that the bill "does not conflict with federal law."
"I want to emphasize why we're doing this. One of the key components of this is to prevent marketing to children," said Harmon, a Democrat from Oak Park.
He also referenced what he said was an image of an ad of a young child holding a high-powered gun.
"This is how people are marketing guns to our children," Harmon said. "I don't think the (state's) Consumer Fraud and Deceptive Business Practices Act should allow that unchecked."
In determining whether firearm advertising campaigns are geared toward minors, the law says that could mean promotions that use caricatures that "reasonably appear to be minors or cartoon characters," offer brand name merchandise for minors such as clothing, toys, or stuffed animals, or products in "sizes, colors, or designs that are specifically designed to be used by, or appeal to, minors."
According to Attorney General Kwame Raoul's office, which pushed for the legislation, the measure specifically excludes communications or promotional materials for lawful firearms safety programs such as hunting activities or sport shooting events.
___
© 2023 Chicago Tribune
Distributed by Tribune Content Agency, LLC.